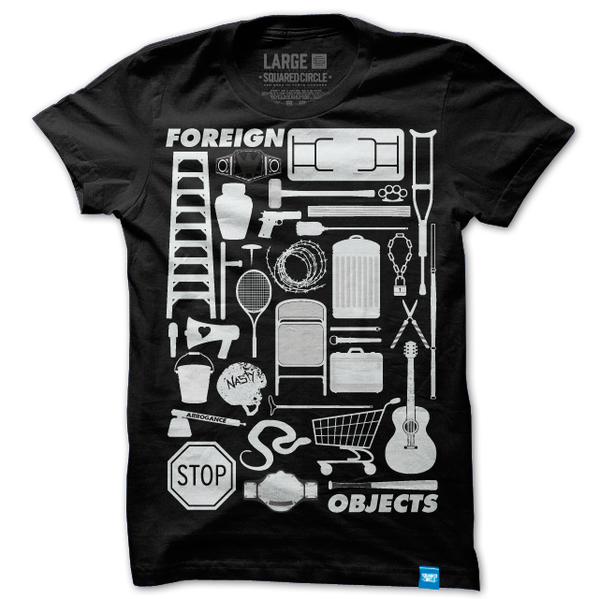 Foreign Objects
It's hard to believe in a sport with such fine refereeing that cheating occasionally happens, but it does. Over the years there has been many forms of cheating but by far the most interesting is the use of a 'Foreign Object'.

For years we thought a Foreign Object was something that came from another country but that theory was thrown in to jeopardy when Duggan's American made 2x4 was described as 'foreign' by Gorilla. This forced a rethink and we eventually realised that it simply meant any object that was not part of the ring itself & was introduced from the outside.

There have been so many awesome Foreign Objects we decided to chronicle them on a t-shirt (cos that's what we do!), this collection is by no means exhaustive but we think most of the classics are there from the Title Belts to Barb Wire, Baseball bats to Guitars, a Megaphone to Pillman's pistol and of course, the ultimate Foreign Object, the good old-fashioned Steel Chair!
Printed on super soft Black Regular Fit shirts with White inks.
Product images for Illustration only, product may differ slightly due to printing techniques. Mockup indicates size on a Medium/Large sized shirt. Print size is consistent throughout all sizes so print will appear smaller in context on larger sizes.Original Squared Circle Design & Concept. 100% Unofficial everything else! Not connected, endorsed, or licensed by any 3rd party. Copyright Squared Circle Ringwear.