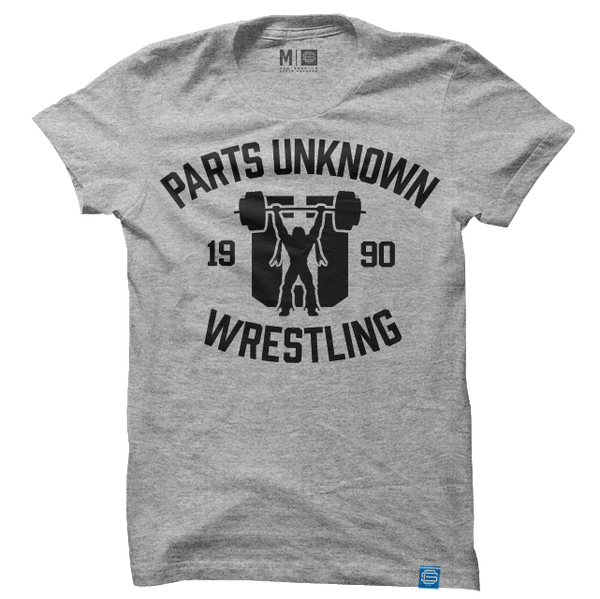 Parts Unknown Wrestling Grey
Established at an unknown time, by unknown academics, the Parts Unknown State University is famed the world over for it's mysterious, elite crew of world class Wrestlers.

Known as The Unknown Warriors, they have dominated the world of sports despite their small numbers. Famed for their brutal style, and complete lack of grappling knowledge, they focus on brute strength honed from years in the gym gorilla pressing insane weights above their head in preparation for the battles they must face when they are chosen by their gods to leave Parts Unknown and venture in to the Known World to do battle with the mortal athletes.

This shirt is branded "1990" to mark the year of their finest achievement as a former Alumni of P.U. State Uni became World Wrestling Champion.
Printed on super soft Grey Regular Fit shirts with Black ink. Also available in Charcoal.
Product images for Illustration only, product may differ slightly due to printing techniques. Mockup indicates size on a Medium/Large sized shirt. Print size is consistent throughout all sizes so print will appear smaller in context on larger sizes.Original Squared Circle Design & Concept. 100% Unofficial everything else! Not connected, endorsed, or licensed by any 3rd party. Copyright Squared Circle Ringwear.